We proudly sell Norman and Graber products


Custom Drapes
Custom drapes provide a great way to spruce up your home décor. They come in different fabrics, colors, and patterns and are tailored to perfectly fit the size and shape of your windows. With these unique window coverings you can create a design that is both attractive and practical.
Custom drapes are a great way to add some style to your space, while also providing both privacy and insulation. Additionally, they can be used to block out external light or noise if desired.
SHOULD I GET CUSTOM DRAPES FOR MY HOME?
Investing in custom-made draperies can make your space look unique. There is a wide array of designs to pick from like casual, formal, light and airy, as well as warm and cozy – all of which bring a personal touch to your living space. Additionally, these drapes are usually of much better quality compared to the ones found in commercial stores that specialize in mass production.
Choosing the right manufacturer can be highly beneficial and allow you to capitalize on your investments. With the right partner, you can maximize your returns and make the whole process much more worthwhile.
WE OFFER PREMIUM CUSTOM DRAPES & SERVICES
The Blind Main
is here to help you create a unique space that matches your personality. We offer a wide range of fabric, hardware and drapery options to give you the ideal look and feel. Plus, we provide custom drape services from installation to maintenance, keeping your windows looking their best and your home feeling cozy all year long.
By choosing to partner with us, you can be confident that:
Our team of skilled interior designers and contractors will take care of all your design needs.
All stages of the production process are driven by the manufacturer's goal to produce quality products.
With us, you can be sure of a reliable partner who has plenty of experience in delivering superior products and exceptional customer service for your project.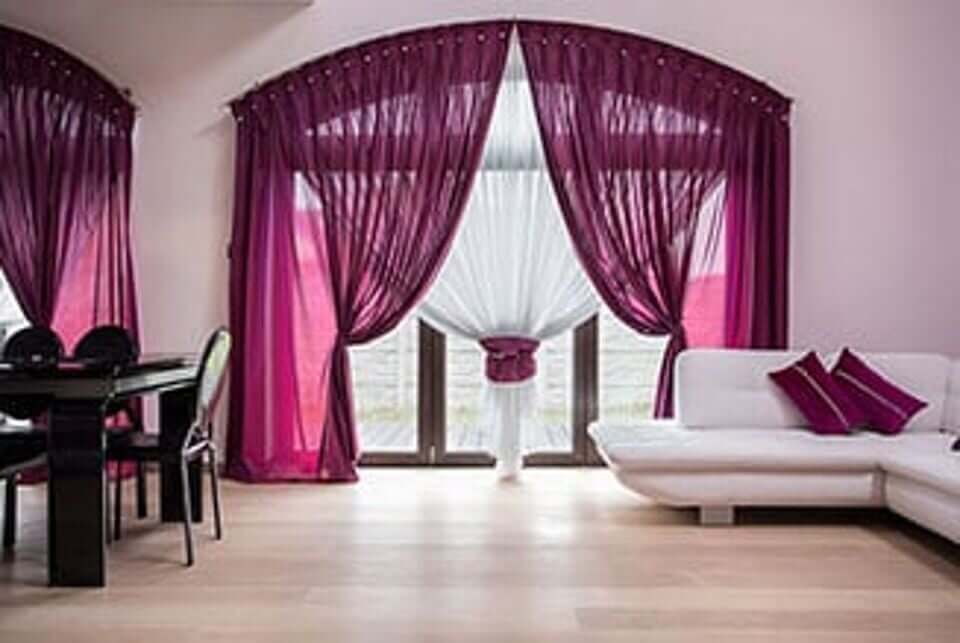 DIFFERENT STYLES OF DRAPES
Whether you're looking to add elegance to your home or just need something to keep the light out of a room, drapes are a great way to go. They come in an array of colors, fabrics, and sizes that make it easy for you to find something that fits the style and look of your space. From sheer panels to blackout curtains, there is definitely a drape style for every room or window in your home.
If you want to add a stylish touch to any room, take a look at these amazing curtain designs! There's something for everyone here and sure to be the perfect addition.
GROMMET DRAPE
Grommet curtains are a great option if you're looking to have full authority over your windows. Their modern design and flexibility to alter light and temperature make them a popular choice for many households.
Rod Pocket Drapes are classic and relaxed in style, making them a great choice for home décor. What sets them apart from other drapes is their rod pocket feature on the top, which allows you to easily slide in a drapery rod for an easy installation.
PLEATED DRAPERY
Pleated drapery is an excellent way to give any room a classy, luxurious look. It adds a touch of elegance that can instantly upgrade the overall aesthetic of your home.
Pleated drapes can add a touch of formality and sophistication to any room, especially with the addition of a unique header. For a more casual and modern look, you can choose fabrics that give off those vibes to create your pleat drapery design.
SEMI-OPAQUE
For those looking for the right balance between maintaining privacy and controlling the amount of light in a room, semi-opaque drapery is a great choice. Compared to sheer curtains, these provide better performance in both fields without compromising on either one.
With their semi-translucent nature, these drapes are versatile and can be used either on their own or with other curtains and shades to provide the perfect balance of light and privacy.
BLACK TAB DRAPERY
Hybrid draperies are gaining popularity due to their versatility and convenience. The small tabs behind the fabric make it easy to hang them on curtain rods, allowing you to customize the look of your space.
If you're searching for a neat, fashionable look for your office, this curtain design might be ideal. It tends to conceal the rod and is also quick and easy to open and close. Give us a call at The Blind Man to know which of these custom drapes suits your home or office best!
HOW TO SELECT THE BEST CUSTOM DRAPES
Selecting the right custom drapes for your home is an important decision. Not only do they need to match your existing décor, but they also need to be functional and durable.
When selecting custom drapes, it is important to consider factors such as fabric type, color palette, length, and design style. It is also essential to consider the installation process and cost of the drapes before making a purchase.
Here are some tips on how to select the best custom drapes for your home:
COLOR
Bright and bold colors such as orange may give your space a contemporary look, but they can make the room feel too intense if it gets exposed to natural light. To counteract this, opt for neutral shades like beige, light gray or white as these are less likely to become dull over time.
When selecting the color for your drapes, bear in mind the furniture and other items in your room. You could opt for matching drapery to a major piece of furniture which can bring cohesion or use a contrasting color scheme to achieve an attractive balance.
LENGTH
If you're looking to pick drape for your home, first consider the following tips and guidelines to help make the right choice.
When hanging drapery panels, the ideal length to go for is as long as possible in order to make your room appear bigger and your ceiling appear higher. However, if there is a floor heater present that could become a fire hazard, it's best to avoid dragging the drapes across it.
For maximum effect, hang window treatments as high up as possible. Doing this will create an illusion of a much larger window than what is actually present.
TEXTURE
When decorating a room that has been designed with luxurious textures and embroidery, it is important to choose drapes wisely. Opt for textured, multi-colored curtains that will blend well with the decorative elements in the room for a polished, cohesive look.
It is important to choose appropriate textures for your throw pillows, area rugs, and even drapes so that they blend in perfectly with the existing décor. Pay close attention to the patterns, fabrics, and finishes of the drapery since they can help create a balanced color palette in the room.
DESIGN
The design of your home should not be overlooked when selecting custom drapes. Investing in great window treatments can really elevate the look of a room and make it feel complete. Furthermore, each area of your house may have different design needs that need to be accounted for.
The living room should have a more formal atmosphere, while the dining room can be decorated with a lighter touch. When considering window treatments for your home, it's important to keep the architectural style in mind. What may look beautiful in an old Victorian house could be completely out of place in a modern, minimalist home.
So, make sure you select drapery that appropriately complements the overall design style of your residence.
FABRIC
Knowing the right material to use is essential to get the desired look and feel. Heavier fabrics like velvet or damask give off a more formal vibe while lighter materials such as cotton can look more casual.
Cotton drapes are a great option if you're looking for something light and casual. When selecting drapes, pick ones that hold their shape and can effectively minimize the amount of light entering your home.
With these helpful tips in mind, you'll be able to find the perfect custom drapes that will add beauty and elegance to any room in your house.
Contact us at The Blind Man to learn more! We'll help you get the best custom drape out of your investment.
All our products are made in America.